We had plenty of April showers, now lets hope Mother Nature blesses us with May flowers and warm weather. The extended forecast appears promising but I take that for what it is…  Last weekend was beautiful and we managed to accomplish quite a few chores around the farm.  With the warm weather has come a significant increase in soil temperature and every row crop farmer around here is in the field planting corn.  Looking at the extended forecast I decided to take a chance too…
The 560 and I did a little tillage yesterday evening and then we put the 400 Cyclo to the test planting sweet corn.  Yes I took a gamble and have my fingers crossed that the extended forecast is as warm as it predicts and warms the soil enough to germinate my $20 / lb ($430 / 80K seed bag) sweet corn seed.   So… May 2, 2011 the first sweet corn went in the ground.  In a week or two we'll be able to gauge how well the Cyclo performed.  I hope that I don't need to thin the stand nearly as much as I did last year.  I have cut back on population for 2011 planting at a rate of 19500 / acre which results in a plant spacing of about 8 3/8 inches with row spacing at 38 inches.  We're putting down 180 lbs of 11-52-0 starter / acre  off of the planter.  With the dairy manure incorporated as well as broadcasting 200 lbs of 46-0-0 (urea) we should have plenty of nutrients to grow some good corn.  Stay tuned…
Also with the good weather we had an opportunity to get some of the cool weather resistant crops in the ground this past weekend.  By seed we planted radish, beets (red as well as golden) and turnip.  I also had an opportunity to put the trans-planter to use and used it to cut a furrow to place potatoes and onions.  By doing this I can get the potatoes below ground and then hill as they grow upward.  By placing on top of the ground and hilling you end up with some tubers being exposed after a heavy rain.  We planted both Yukon as well as Pontiac potatoes, as we did last year and the onion sets are regular old yellow sweet onions.  We'll follow up in a month with another round of each so that we have a season long supply.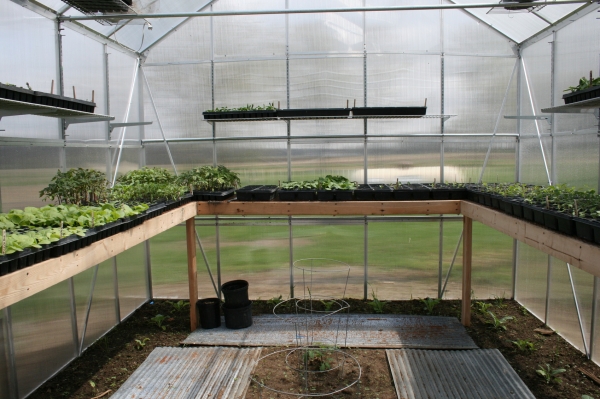 We are really looking forward to this month and being able to get all of our seedlings in the ground.  The greenhouse is performing extremely well and plants are growing beyond precedent.  Tomatoes, peppers, melons, cukes, zukes, squash, cool weather crops and tobacco seedlings all are flourishing and we are filled to capacity.  Some of these will be going to market with us to sell and I am looking forward to the first market of the year which will be May 14th.  Once I get some of these seedlings cleared out I can start my second replication of melons.  Later this summer I will start more cool crops such as cabbage, cauliflower and broccoli.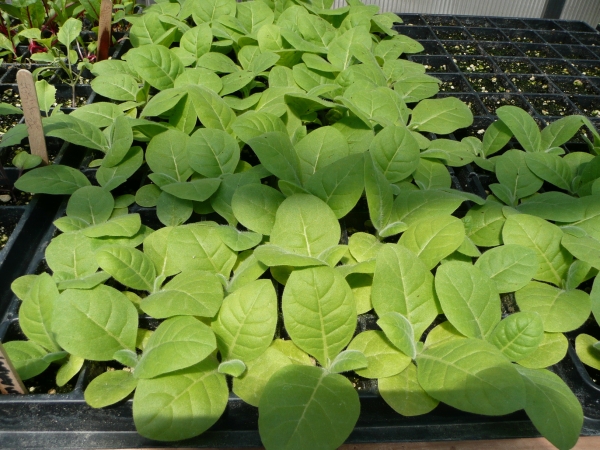 One of the new items we are growing this year is tobacco.  Yes tobacco, in Michigan.  Tobacco is a nightshade family of plant, just like tomatoes and requires a very similar growing environment and season.  With the price of tobacco products and the independent nature of people in and around our community I felt there was an opportunity to add another profitable product to our operation.  We'll be selling seedlings at market this month and will plant some of each variety to grow.  By growing a few of each variety I will be able to bag the flowers and harvest seed and in the fall we can provide whole leaves at market for people to cure and ferment at home and turn into a usable product themselves.  We may also experiment with manufacturing a nicotine based "organic" pesticide.    This is a very exciting venture for us and thus far is going well.  We have 320 or so plants in 4 varieties about ready to go to market with another 1000 or more that need to be up potted to individual cells.  As the season progresses look for updates on our progress.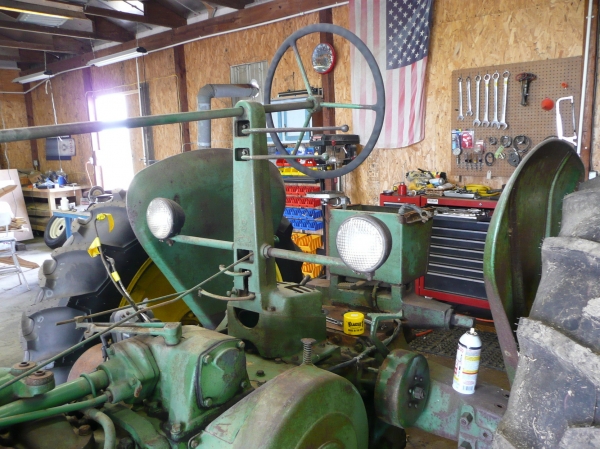 I have also been diligently working in the shop.  The shop is clean and organized pretty well and the John Deere B has been pulled out of her hole and I have it nearly split in half for gasket repair as well as a few other nagging issues to resolve.  I have discovered that at some point someone must have worked on the transmission and did not achieve enough torque on the fasteners.  They are all fairly loose and this resulted in components shifting against one another in turn effectively wearing away the gasket.  Time has also taken it's toll on wiring and I will be building a new harness to replace the original that has deteriorated and left many bare wires to short.  I would like to finish this project before July.  It needs to be finished as I have a couple of repairs to do once it is, one of which I think is going to be replacing the clutch and pressure plate in the 560.
Finally, in closing we still have a few CSA shares available.  By selling CSA shares this allows us to have a good cash flow for operating expenses up front and it gives us an idea of how much we need to plant.  We feel it is a win / win for both us as well as our customers.  If you wish to tailor a CSA share to your specific needs please contact us and we'll work to fulfill your needs.
---