Archive for October, 2011
There isn't a lot to accomplish around the farm during the long months of Winter, except to keep the home warm and the water thawed for the chickens. When it is warm enough to feel my fingers I'll work in the shop and possibly make progress on an antique tractor, repair equipment or maybe fabricate a new piece needed to make life easier while playing in the dirt.
Most of my time is spent on my artistic outlet(s),  the main pursuit being the recreation of 18th century long rifles. I've always been artistic and I've always enjoyed working with wood. I also enjoy fine firearms and craftsmanship. Thus I took on this "hobby" of recreating period muzzleloaders 5 years ago.  Prior to this I've mainly built plain Jane 700 Remingtons.
To date I've completed 3 rifles of various flavors and I am about to begin on my 4th. I am far from an expert but I am accomplished enough to achieve a good result with a roughly shaped stock and rough cast hardware.  By no means can I consider myself a custom gun maker in this field, not yet anyway.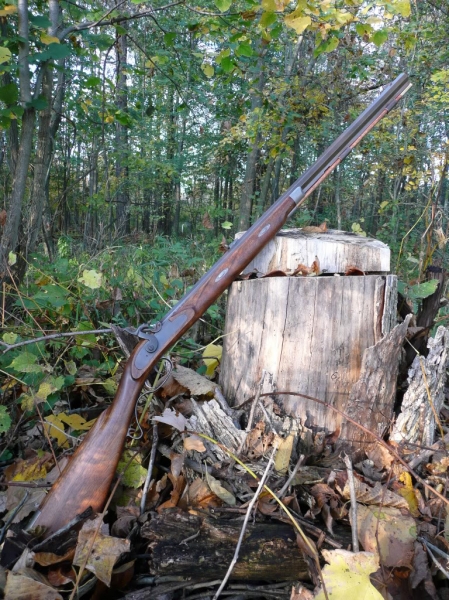 My first project was a rather simplistic Lyman Great Plains percussion rifle.  This rifle was 50 Caliber and a straight barrel of 34″ length.  A heavy gun as plains rifles generally were.  A very generic 19th century rifle of the type that would have been found post 1830 West of the Mississippi.  These are a decent "kit" for a beginner and require minimal tools to complete. The stock comes shaped and 95+% inlet.  Lately it has been seen that some of the inletting is actually too large or out of position, something to be aware of if you purchase one of these kits.  A working knowledge of wood and metal working / shaping / etc is beneficial to achieve a good result but a novice can accomplish this kit with some patience and thought before doing.  While not a custom or even semi-custom gun it is a straight forward project that will yield a fine firearm.  They are accurate and with a bit of work to the lock internals and the double set triggers they will rival some of the best aftermarket components.  I sold this rifle a couple of years back as I wanted to venture into the realm of Colonial period (1750 – 1790) flintlocks.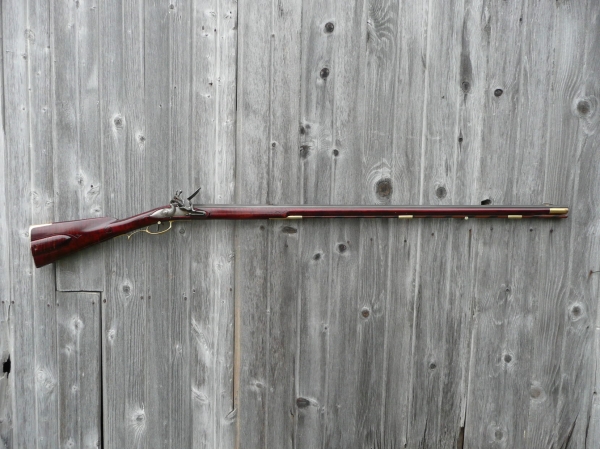 My first flintlock was a mish-mosh of components.  A pre-carved stock of what was called a Pre-Revolutionary Kentucky pattern from Pecatonica.  It has no real "school" in which it fits but with an English style lock and the butt profile it'd probably pass as a Maryland or Virginia built rifle of the 1770's or 1780's.  The stock is a nice piece of Red Maple with good curl  that I requested only as roughly shaped with a barrel and ramrod inlet.  It holds a 42″ tapered and flared Green Mountain barrel in 50 caliber.  The lock is a Jim Chambers Round Faced English with a "waterproof" pan.  The trigger is a simple pinned trigger.  The hardware is a mixture of  elements from Reading to Lancaster to Virginia.  I finished the wood in a series of aniline dyes and sealed it with tung oil.  Steel components were heavily cold blued and rubbed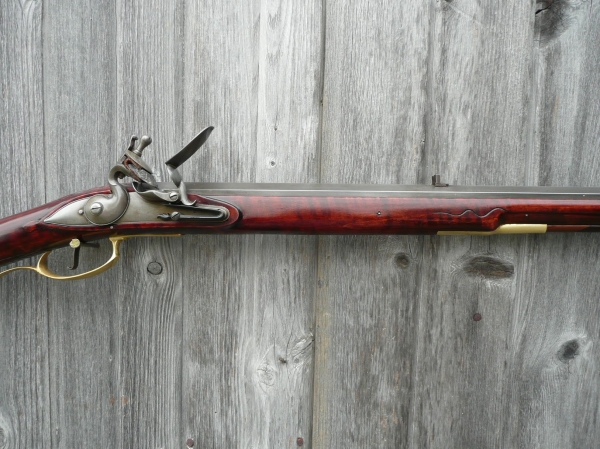 back with oiled 4/0 steel wool to a gray patina.   Stock decoration is simple and you can easily tell it was my first attempt at relief and incised carving with hand tools as the relief carving lacks shape and depth in execution.  It is an accurate fine shooting weapon but the LOP is a bit long for my short stature.  This rifle is currently for sale and you may contact me to inquire about more photos, details or pricing.
My latest completed rifle began life as a Jim Chambers Isaac Haines stock and accompanying hardware.  This stock comes 95% inlet and includes hardware that is easily passed off as Dickert, Albrecht, etc with some modification.  I chose a standard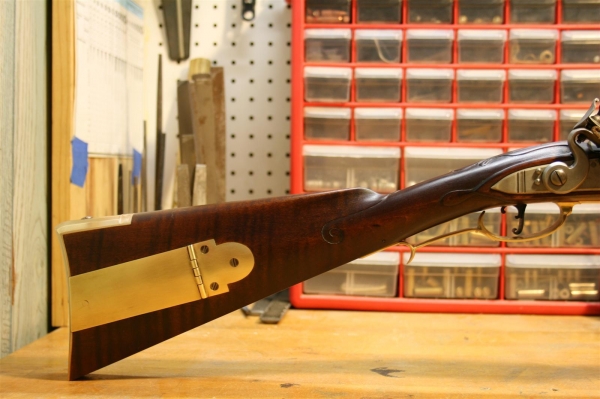 "grade" of stock so that it has some curl but not overly embellished.  I like understated simplicity.  The barrel is a 38″ Rice C profile tapered and flared in 54 caliber and was acquired elsewhere prior to my decision of the stock.  The lock, supplied with the stock is a Jim Chambers Golden Age Germanic. I wanted to build a personal rifle in 54 with a shorter barrel because it is easier for me to load.  At 5′ 7″ a 42″ or longer barrel makes it awkward for me to load as it puts the muzzle at face level.  I had had good success with the Pecatonica stock that had inletting omitted but Chambers pieces come highly recommended so I took a chance.  I was only mildlydisappointed that there wasn't a "ton" of extra wood which allows for more creativity in shaping.  I also am now blatantely sure that I don't like all of the components pre-inlet because I am stuck with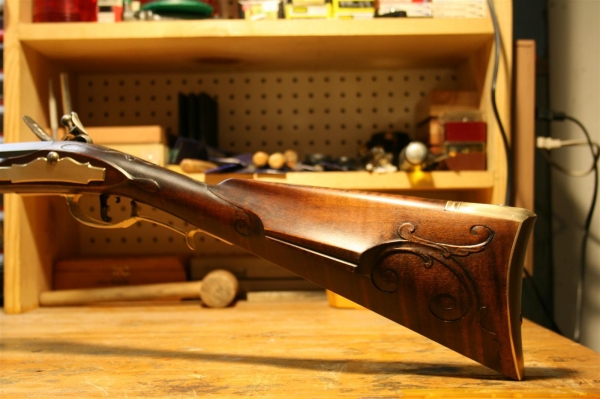 wherever the stock maker decides to put them.  The execution of this piece is much more advanced than my previous attempt and my abilities with design, execution and vision have improved greatly.  The carving is a reflection of an early 1770's Albrecht rifle found in RCA 1.  It again uses a simple pinned trigger and I have substituted sheet brass thimbles and added a simple sheet brass patch box.  This rifle is finished with a traditional Linseed Oil & Pine Rosin finish which is "in" the wood rather than on.  Currently there are 4 coats with at least another 4 to go.  This provides a traditional, hand rubbed, durable, satin "antique" finish.  My next educational venture is to begin to develop my engraving skills.
On my bench now is my first "paying" project.  This is an old Sharon Trade Rifle kit (untouched) that an acquaintance purchased via auction and asked me to put together after seeing my completed Lyman as
well as my Virginia flintlock.  I have not begun on it physically but I have been investigating period guns and their attributes in order to hopefully make this gun look like it fits in the 1840's rather than like the modern day Hawken kits you see from Thompson Center or Cabelas.  I hope to have it complete sometime in January.
For #5 I have been studying New England fowling pieces (shotguns).  Something I can use both for shot as well as patched ball, most likely a 20 bore (62 Caliber).   Many of my ancestors immigrated to New England between the time the Mayflower arrived and the early part of the 18th Century.  They eventually  migrated from New England to Eastern and Northern Pennsylvania before and immediately after the Revolutionary War.   Therefore I feel it fitting that this would have likely been the type of firearm in their possession.  It's a way for me to honor their memory, sacrifice and suffering that in documented cases they endured and sometimes perished from.  I am proud of my lineage and my ancestor's perseverance.
Weather has begun to cool and we've had at least two minor frost events in the last week. This means that everything except cole crops have stopped growing. Good. We are burnt out due to produce overload this year.
Pumpkins went in the ground a bit late and therefore are slightly behind in ripening. Still some green to be seen through-out the patch. The "plan" is to begin setting pumpkins, corn stalks and gourds out this weekend. The weather is supposed to be warm and sunny all week and that should aid the ripening process.
I've spent the past two evenings hanging tobacco in the green house also. All of the Virginia varieties have had their leaves removed from the stalks and tied in bunches and hung.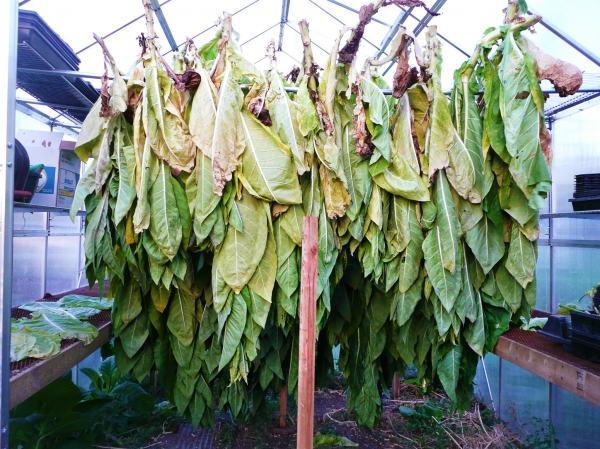 About half of the Burley has received the same treatment since space is at a premium. This is an experiment more than anything and I doubt I'll have any dried down in time to sell this fall. I most likely will leave it hang all Winter and offer leaves for sale in the Spring with seedlings.
So aside from cleaning up the fields, pulling plastic, plowing and planting a cover crop we are quickly wrapping up 2011. The Winter will be a welcome break from the hectic schedule we seem to maintain during the "season". It will also allow me to focus on a few of my other hobbies.
---