2011 began well enough but has quickly begun to erode these past few weeks. We have been hampered by continuous rain and cold temperatures which have set us back at least a couple of weeks. We aren't the only ones though. We have not seen a single row crop farmer anywhere near dirt with a planter. Temperatures for planting dent corn are just on the cusp of being warm enough yet the dirt has too much moisture. Nothing but rain in the forecast for the next week either. We plan to be at least 2 weeks behind this year on most warm weather vegetables such as tomatoes, melons and sweet corn, especially sweet corn.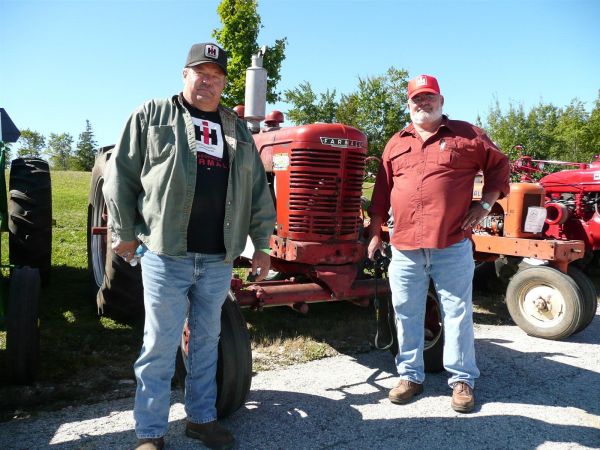 If that isn't enough, we lost my Uncle this past Saturday after a long illness. He went peacefully with a large portion of family, including myself, at his side. He was 66. He was my Father's brother and as previously posted, we lost my Father to cancer just over 11 months ago. It has been a difficult pill to swallow. The funeral will be this Thursday and then the reality of dealing with the farm and 50 years worth of collecting that needs to be dismembered in a manner yet to be decided on. This photo is one of the last of my Father and Uncle taken together. This photo was at the completion of the 2009 Mackinac Bridge Crossing, just a month before my Father became noticeably ill.
On a high note we did manage to hill and mud in a hundred or so strawberry plants last week. Half are a Junebearing and half are an Everbearing. We probably won't pick blossoms and that will allow us to have a harvest, though a reduced one. Going against the grain of most commercial strawberry growers. We've also been able to transplant cool weather crops such as kohlrabi, cauliflower and broccoli. Cabbage will be next as well as the 2nd round of the previously mentioned items.
The Greenhouse is also holding together well and it is full to capacity. So much so that I've added a second tier of shelving and filled it and have also transplanted a few tomatoes and some cauliflower in areas outside of the walk way. I will soon have to up pot a few thousand seedlings and at that point space is going to be VERY tight.
I've also begun to finish work on the John Deere B I wrote about last year. I feel very "melancholy" that I did not dedicate enough time to finish it before my Father passed and with ambition low I didn't finish it before my Uncle's passing. It will surely be sold by my Mother and Aunt but I feel it would be a shame to let the restoration components and paint my Father purchased for it go to waste or to be sold piece by piece. Hopefully, I can persuade my family to put this tractor back into the hands of the original owner's Grandchildren, my second cousins. I believe in Karma.
I pray that this streak of luck soon turns to the better and that God will shine his mercy down upon us and our small operation.  2011 is going to be a very difficult year trying to balance work, farming and squaring away family business.  Keep us in your prayers and thoughts.
---