How did April sneak upon us so quickly? Maybe it's the cool, damp weather and sharp NE wind we've been experiencing for the past month and a half. Our "normal" mid March warming trend seems to have eluded us in 2011. None the less I now find myself under the gun with a laundry list of tasks to complete.
We finished the greenhouse, for all intensive purposes, last weekend. There are loose ends to take care of but they are not pressing. Items such as plastic and a layer of stone for the floor and bracing to add support to the roof. The roof supports can wait as they won't be required until the snow begins to fall. The stone I could use because I don't want to be walking in mud as I water seedlings. I did take time the other day to transplant some rhubarb and set out seed trays which I need to fill with a starter mix and get dampened. One of the laundry list items.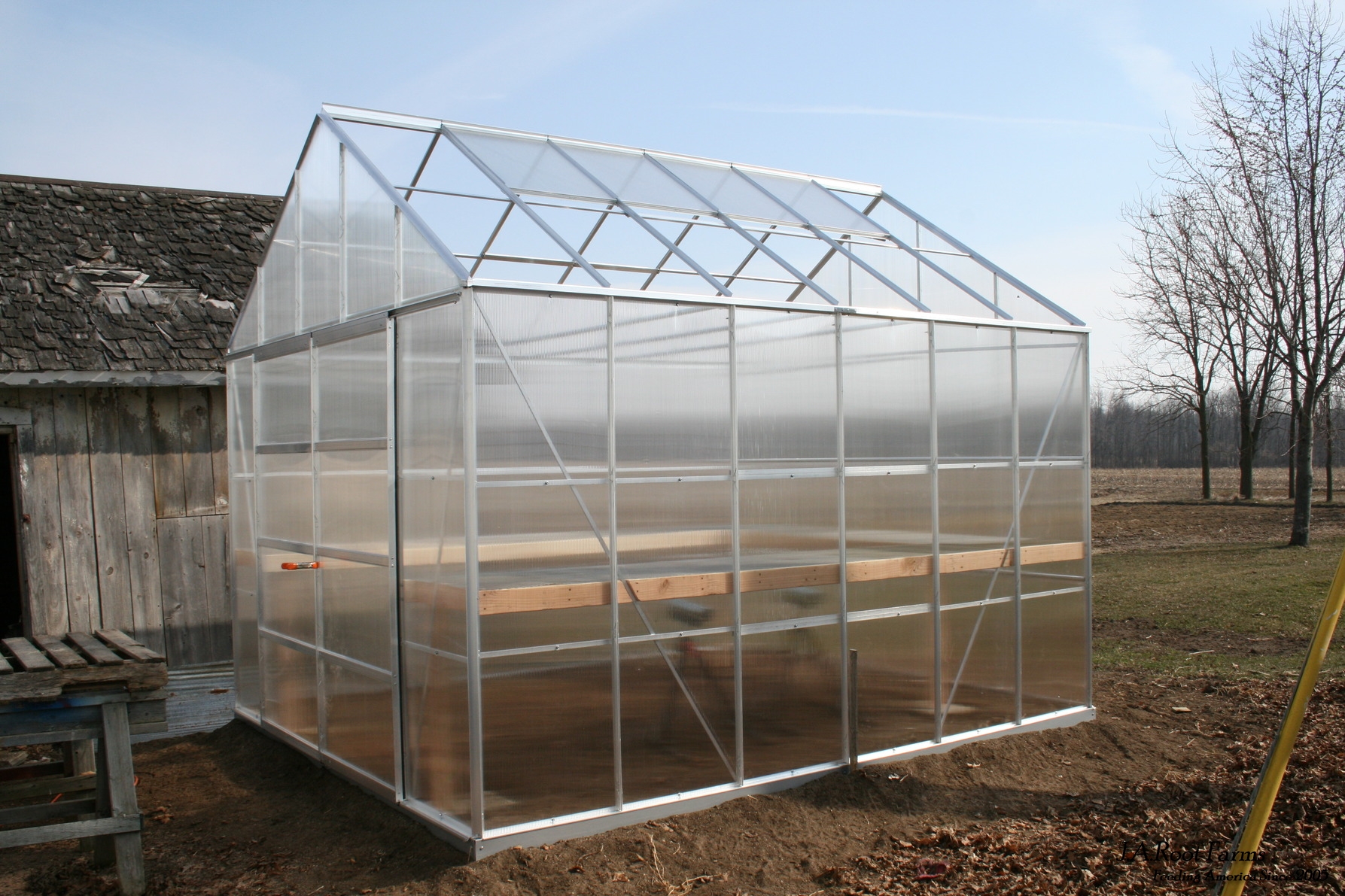 Speaking of seedlings… The basement has no more room for them. Hundreds upon hundreds of seedlings growing under fluorescent lighting everywhere. With temperatures remaining above freezing for the foreseeable future I'll be moving some of the more hardy to the greenhouse in the next day or two. Items such as cabbage, kohlrabi, cauliflower and broccoli. The extended forecast looks promising, highs in the 60's and low 70's which means tomatoes, peppers, egg plant, etc can move to the greenhouse also. This weekend will probably see the starting of most of my cucurbits such as cucumber, cantaloupe, watermelon, squash, etc as we target a May 15th transplant date if the weather is acceptable. Nightly temperatures being the watch point as even high 30's with a breeze can cause frost damage to delicate seedlings.
We also are in dire need of machinery prep. I have been working to re-organize and clean the shop which has undergone a deterioration of such over the past year. I've managed to clean and dispose of quite a few items that have been sitting on shelves collecting dust for a number of years. I've also found that I have quite a few Farmall parts that I have accumulated which could use a new home. I have a few more evenings to spend in the shop and it should once again be usable. Then I can move on to the important "stuff" such as laying plastic and drip tape and corn planter prep.
Yes the 400 Cyclo remains where I put it after bringing it home. I haven't touched it. Though I did buy seed plates for our 2011 sweet corn seed for the 455 just in case the 400 doesn't quite work out as I hope. I have plenty of time (relative) to get things in order as we can't put sweet corn seed in the ground until I have 62F @ a couple of inches early in the morning (coldest part of the day). Any cooler and this Sh2 seed will sit there and rot. Even in the low 60's it'll take almost 2 weeks to germinate and with the cool spring thus far I do not foresee an early planting date as we experienced in 2010. I am keeping my fingers crossed though.
I also need to trial run my home built much layer and see what improvements it is going to require, if any. I have nearly a half mile of plastic and drip tape to lay and the sooner the better as the black plastic will really heat the ground beneath and will help to protect seedlings as well as make them root well. Before I can do this I need to get the disk in the ground and incorporate the manure spread on the fields. Once I have things fit well I need to broadcast my oat / pea cover mix both on my permanent bed area as well as my pumpkin field. If I can get this cover going early I should have good grown by Mid June and can get it rolled down and killed for pumpkins. The hope is to create a very thick straw mat which will hold moisture in and keep weeds at bay.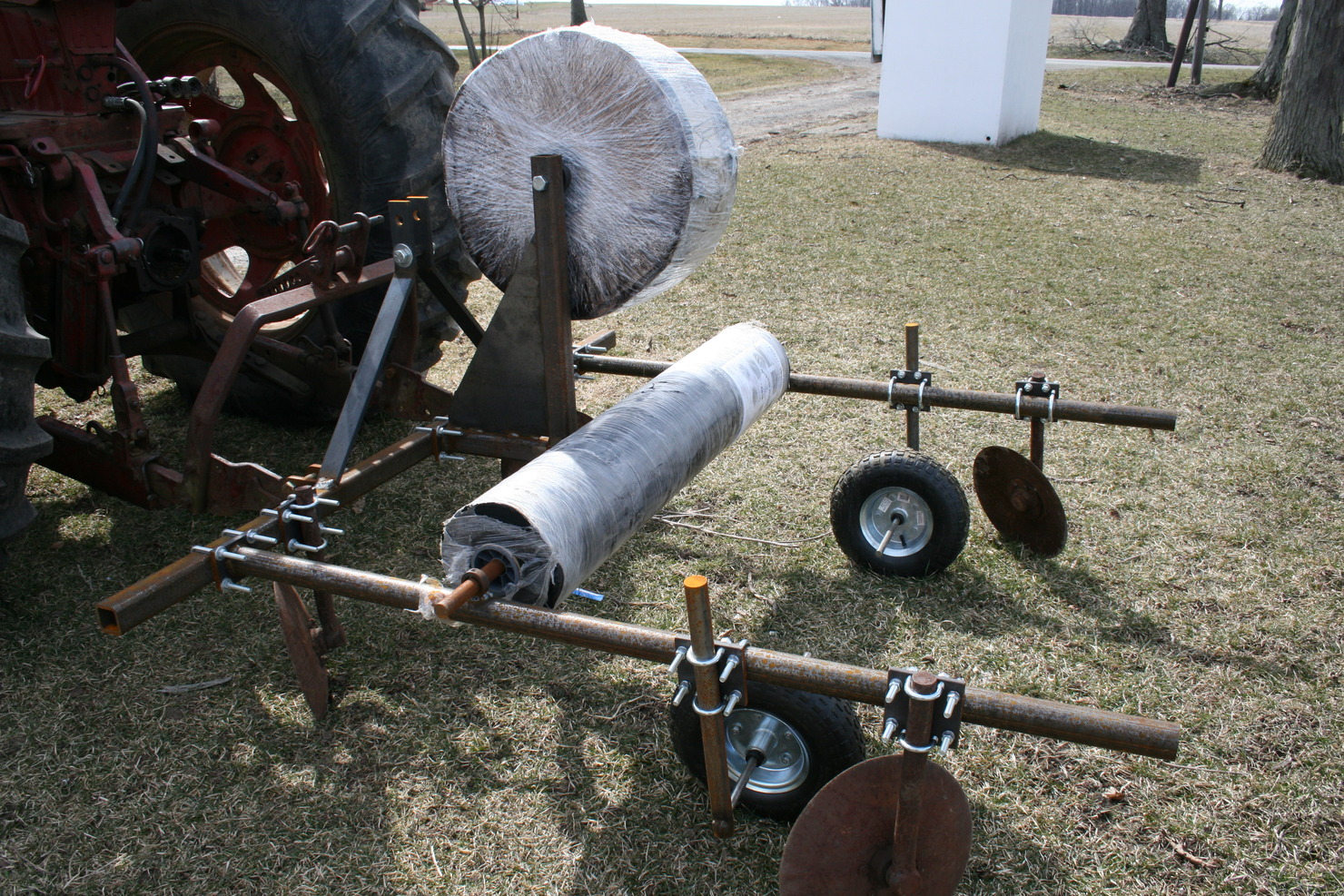 The peas and oats will be mixed with hairy vetch in the permanent bed area and then the plastic laid over it. This way we get a good cover stand between the plastic strips and I can mow it off in a couple of months and use the debris to cover the plastic and act as a sun shield as well as holding the weeds at bay. Next year we can come in and sew some clover for a good cover which will remain until we lift the plastic in a couple of years.
A lot of work to be completed in the coming weeks. In that mix I also need to get snap peas, potatoes, onions, strawberries and the rest of my cold weather tolerant crops in. Items such as cauliflower, broccoli and cabbage. Looking at the entire list I may have to seek out some temporary hired help to get it done. I know I am going to have to hire help as I cannot both drive the tractor and run the transplanter at the same time. The fun of expanding a business and trying to become more efficient.
Upon closing I urge you to visit our CSA PAGE if you are interested in participating in our Community Supported Agriculture (CSA) program. I have tried to compile a program that can meet the needs of many. We still have a few openings we would like to fill and welcome all interested parties. We also have an online CSA application form that you may print, fill out and return to us in person or by mail.
We look forward to continuing to serve existing customers as well as making new customers and friends for 2011. Until next time, pray for warm weather and fair skies.
---